توضیحات
Profile 509 is also known as single edge profile. This profile is produced in Sadra Profile Kaveh company with a thickness of 2 mm and a length of 6 meters. Profile 509 is produced by cold rolling method. The sheet used in Profile 509 in Sadra Kaveh Profile has JIS G3131, G3132, DIN 2395 standards and chemical compounds (Silica with 0.35, Carbon with 0.3 to 0.1, Sulfur 0.04, Phosphorus 0.04, Manganese 0.5). In terms of quality, it should be responsive to the needs of customers so that it can be effective in stylization and strength of steel structures.
If you intend to buy or get information about profile 509 or single edge, stay with us until the end…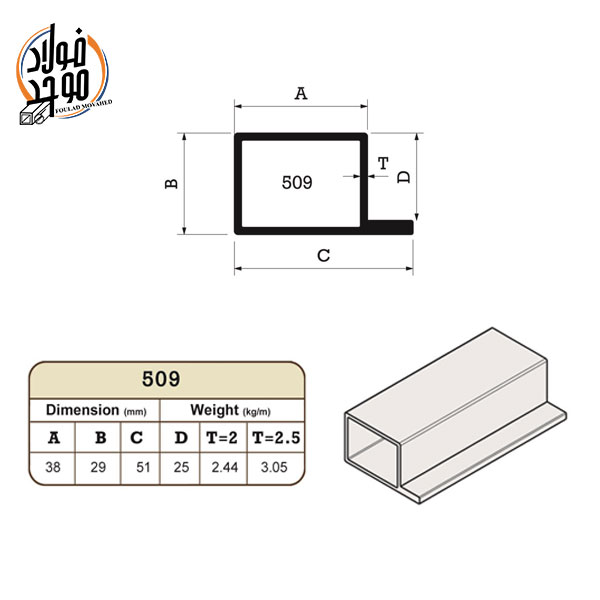 Capabilities of Sadra Profile Kaveh Company
Variation in the thickness of the profiles
Diversity in packing profiles in different weights
Application of profile 509
509 thickness 2 Alavija steel frame profile is often used in making iron doors and windows, making metal fences for the doors and windows of houses, the side of the stairs, as well as fencing around the walls of factories and fenced lands, and fences for sidewalks and streets.
Some features of profile 509 or single edge
Thickness: 2 mm
Size: 6 meters
Approximate weight of each branch: 900/14
Number on the floor: 10
Number of heights: 10
Number of branches in package: 100
Approximate weight of each package: 1490
Profile details 509
Profile 509 or single edge, which has the characteristics of thickness of 2 mm and length of 6 meters, is produced by cold rolling method. This profile is also used in the construction of doors and windows of fences.
Here are some advantages of 2 mm thick steel profiles:
High strength: these profiles are very strong and can bear a lot of weight. This makes them ideal for making frames that require strength, such as windows and doors.
Stability: These profiles are very stable and can withstand wind and extreme weather conditions. This makes them ideal for making frames that are exposed to the open environment.
Durability: These profiles are very durable and can last for years. This makes them ideal for making frames that require little maintenance.
Beautiful appearance: These profiles are available in a wide range of styles and colors, so they can be matched with any decor.
Affordable price: These profiles are affordable compared to other frame materials such as wood or aluminum.
If you are looking for a strong, stable, durable and beautiful frame for your windows or doors, 2mm thick steel profiles are a great option.
509

Weight(kg/m)

Dimensions(mm)

T=205

T=2

D

C
B

A

3.05
2.44
25
51
29

38
Buy profile 509 or single edge
Mowahed Steel Company is "the first manufacturer of profile pipes and cans in the northwest of the country" that offers its products with the highest quality and reasonable price. On the website of Foulad Mohed, the specifications of various products are presented and it offers the most suitable option for you.
Daily price of profile 509 or single edge
The price of the 509 steel profile depends on its dimensions, the manufacturing company and the quality of the manufactured product. However, factors such as exchange rate changes, prices in the global market, and political factors also affect the price of this product. But Sadra Profile Kaveh Tabriz continues to produce products. You can find out about the daily price of profile 509 by communicating through the following communication channels.
Advice: If you need advice, ask for the
daily price
of iron, get a sales representative or bulk purchase, please contact the sales office or the factory through
communication
channels.